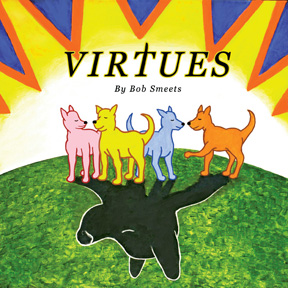 What is virtue, if not the moral fiber of a person's character? How do we live with virtue? How do we recognize it and encourage it in others, and in ourselves?
The answers to these important questions are difficult to explain, especially to the young.
Virtues –The Book, a new discussion picture book by father and son team, Bob and Mike Smeets, takes a brave stab at tackling the subject with minimal words while achieving maximum impact.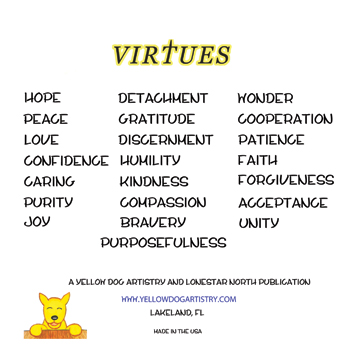 Virtues – The Book is self published by Yellow Dog Artistry and Lonestar North.
We are a father and son team who developed the project from a series of paintings made by Bob Smeets, the son of our duo.  Bob began painting his whimsical characters almost as a break from the exacting detail of his comic book work.  They were an instant hit at the art and craft fairs we attended.
We wanted to find a way to unite the various pieces in the Yellow Dog collection.  The concept of naming each one after a Virtue came about after the works were finished.  It was not hard to apply a name to each painting, as each one spoke to us in turn.  We hope they speak to you as well.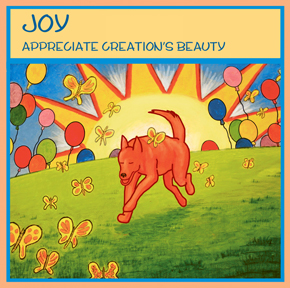 We like the idea of having minimal text.  The reader needs to feel the pictures and apply their own interpretation to the concepts.  We give a brief blurb, but only as a starting point for further, deeper dialogue.
The intent, or the purpose of the book, is to offer something a little different.  Something that helps people to live a better life.
Poke around this website and join in the discussion.
Virtues – The Book is so much more than a children's picture book.  Teens, young adults, parents, educators and pastors will appreciate the book's simple presentation and powerful message, that a life lived in virtue will be a life well lived.
If you are interested in purchasing a copy click the Buy Now button.
Retail price is $18.00.
DETAILS:  8.5 X 8.5  22 pages – all full color Format: Soft Cover Picture Book.